Lower Key Stage Two - Years 3 / 4
Information about Year 3 and 4 Key Stage can be found here:
Key Stage Information Leaflet Years 3 and 4
Spring 1 2019
We are learning about Empire Explorers. Our theme kicked off with an exciting start. We arrived back in our classrooms to discover that the Year 5/6 children and adults had invaded our rooms and refused to leave!

This helped us to get an understanding of what the Celts might have felt when the Romans invaded Britain.

During the course of this theme, the children will develop their understanding of how the Roman Invasion changed the way Britain is today. They will develop their chronological awareness, relating the previous historical Theme of Prehistoric Planet to this one on a timeline.

After half term, we will have the opportunity to visit Fishbourne Roman Palace to uncover more about life in Roman Britain.
Autumn 1 2018 / 2019
Prehistoric Planet

We are learning about Prehistoric Planet! We had an exciting launch day for our theme where we became archaeologists and had to make deductions about what life might have been like in the Stone Age, based upon clues that we uncovered.

We took part in an archaeological dig, examined a Stone Age skeleton and found hidden cave paintings. We will continue our theme by beginning to understand the chronology of the Prehistoric Era and the significance of the important changes that took place between the Stone Age through to the Iron Age.

We will formulate our answers to a series of historical enquiry questions following detailed and creative research techniques. and consider what it would have been like to live more than twenty thousand years ago. We will also have a visit from Portals to the Past with their exciting 'Stone Age to Iron Age' workshop.
Summer 2 2018
Theme Launch - Amazing Amazon
On Wednesday 6th June 2018, Year 3/4 launched their new Rainforest theme in style! The children started the day by going on a 'flight' to a place that they had probably never visited before …… the Amazon Rainforest!
Upon arrival, the children then proceeded to learn a little about some of the animals and plants that live in a tropical rainforest. They then created their own rainforest animals (using paper plates, tissue paper, pipe cleaners, etc.), as well as helped to construct a tree to form part of a rainforest area in their classrooms.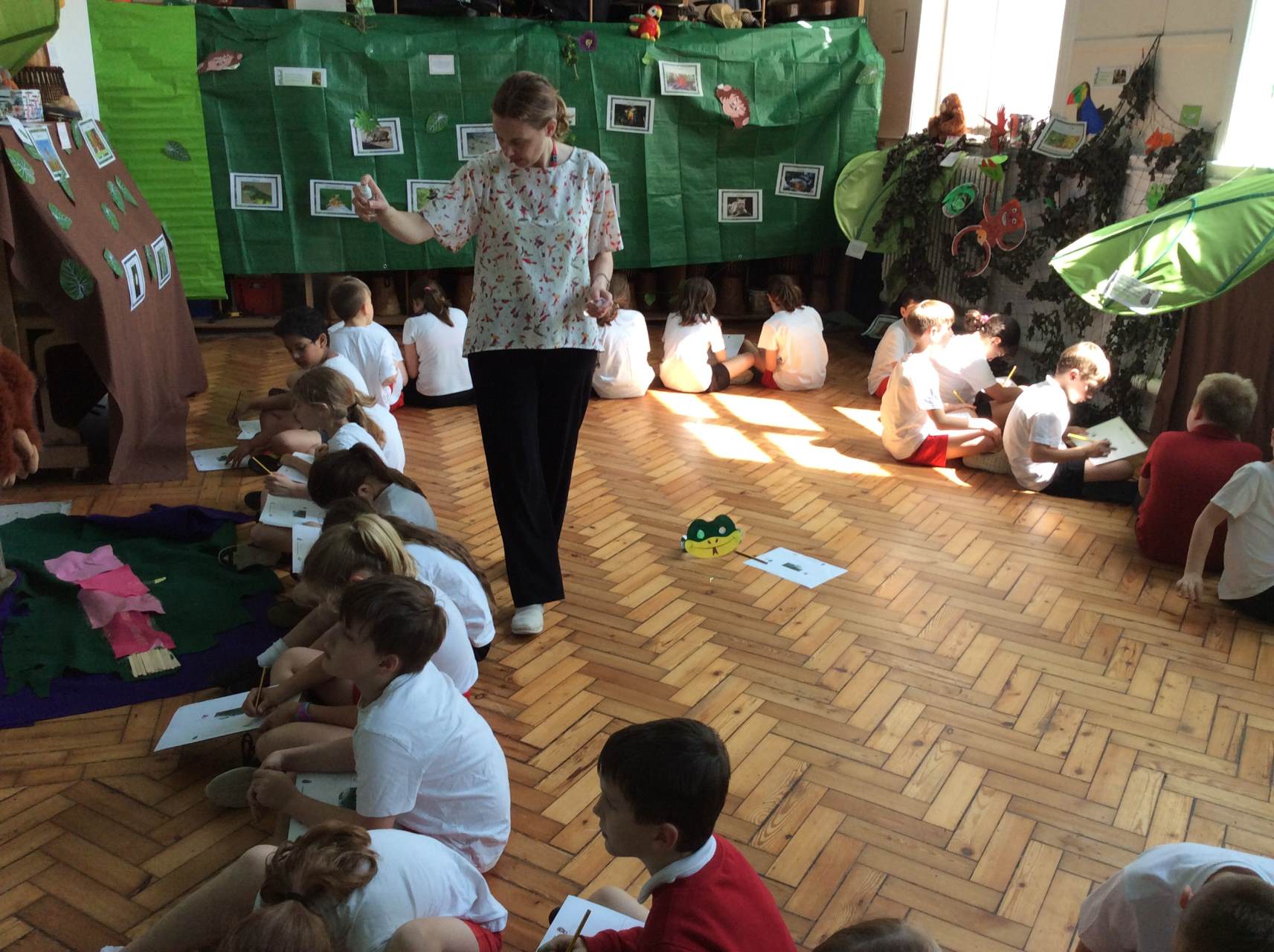 The day ended with the children entering a 'Rainforest Sensory Area'. In here the children were able to experience some of the sights and sounds that they might encounter in a real rainforest. They also gained a sense of what the temperature might be like in this area of the world.
The children's explorations during this day have now given them a real desire to learn even more about the Amazon Rainforest.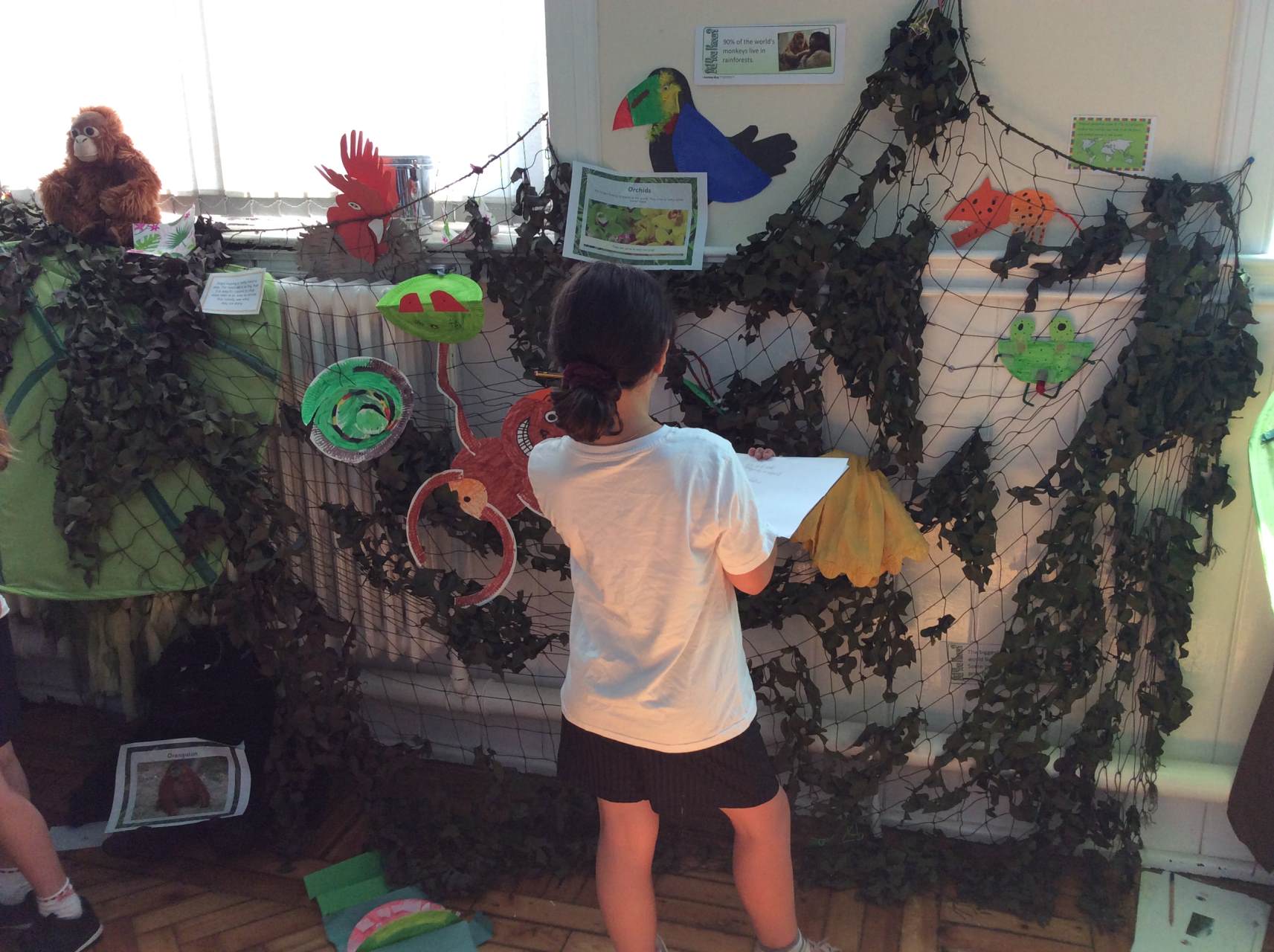 Amazing Amazon - Summer 2 Term Theme

This is our last theme for the year. Throughout this vibrant theme, children will use their geographical and science enquiry skills to investigate and learn about the amazing Amazon rainforest and the incredible diversity it supports!

We will launch Amazing Amazon with a Rainforest Sensory Area at Manor Field Primary School itself! This will give the children the opportunity to experience the sounds, sights and feelings associated with a rainforest.

We will also be hoping to arrange for some rainforest animals to come and visit the school to help to bring the learning to life even more!
Summer 1 2018
Year 3 and 4 are learning about Ancient China.

Our fourth theme will allow the children to discover the world of Ancient China. Each week the children will look at an invention and the impact it had then and now.

The children will look at a culture, rich in tradition, and a landscape full of beauty.

They will begin their learning journey by being immersed in the Chinese culture through experiencing delicious, authentic Chinese cuisine.

We are also hoping to provide a taster session of the disciplined art of Kung Fu to further immerse the children in this theme.
Spring 1 2018
Years 3 and 4 are learning about Dragons.

Our third theme will take the children on an exciting adventure into the world of dragons! We will be thinking about whether dragons are real or are they just fictional characters. The topic will begin with the children looking at how to train a dragon.

Throughout the topic, children will be exposed to a variety of myths, legends and stories about dragons, which will help to inspire them, to paint and digitally animate their own dragons.